Looking for an idyllic beachside getaway? The little beachside town of Peregian Beach is just what you're looking for – and we have created the top 9 things to do when your there.
Spend a day at the beach
If you're staying in Peregian Beach, then expectedly you're spending your holiday at the beach! What's makes this beach popular is the seclusion and that it is patrolled year-round.
Spend your day basking in clear sparkling water, feel the soft sand between your toes and enjoy a walk along the miles of beach. Just over the sand slopes at the end of the coastline you'll find the Peregian Environmental Park, an area of wallum heath, in which you'll discover the best sunsets over the profusion of flora.
Do some boutique shopping
Whilst this town is the perfect beach holiday, it boasts some of the best and independent clothing boutiques on the Sunshine Coast. Only a short 12-minute drive from Noosa Heads will take you to the centre of this popular fashion hub. This square of shops is scattered with hidden gems, so have a chat with the lovely shop owners and pick up some new pieces to bring a bit of Noosa home with you.
A crowd favourite not only among the locals but every holidaymaker is Bohemian Sundays. Sitting pretty on the corner of Peregian Beach, you'll find your favourite brands of Arnhem, Kivari and Rowie in the colourful one-stop shop. Say hello to the lovely owner, Karla, and select your favourite from the curated selection of Australian labels – you'll struggle to come out empty-handed.
Another notable mention is Luxe Tropics, perfect for keeping your wardrobe full of timeless statement staples. Stocking Australian brands Stevie May, King Csilla, Free People – you'll be sure to bring in all the compliments.
Buy some Interior & homewares
If you want to shop the best homewares on the Sunshine Coast, then make sure you plan a stay in Peregian Beach. Beginning with The Romantic, whilst they possess a curation of clothing, jewelry, and shoes – there homewares are more than notable. With pieces for every room, wall art, tableware, textiles, towels – your interior will never look better.
Drop into Bedouin Traders – their bright interiors and sleek fashion are enough reason to visit. This spectacular lifestyle boutique is lined with beautiful pieces, from vivid artwork to contemporary furniture. A walk through will have you coveting everything in sight, but don't worry, they do offer shipping.
Have a picnic in the park
Throw down a rug under the shaded trees of the park – you're guaranteed plenty of open space to kick a footy or run around. Take the time to bring the kids to this beachfront park with its excellent skatepark, and children's playground. Visit Captains Daughter or grab some of the best Sushi on the coast, Sushi Wave for some easy picnic takeaway.
If you want an enjoyable picnic but don't want to do the work, hire Noosa Picnics to do it for you. Few experiences match the charm of a luxurious, bohemian-style picnic in the beautiful park or foreshore of Peregian.
Visit the Peregian Beach markets
It is here, in the local park, that Peregian Beach Markets are held on the first and third Sunday of each month. Stroll among the beautiful surroundings and explore these artesian markets – renowned for their clothing, homewares, health remedies and their delicious array of street food. Spend your morning browsing the abundance of stalls, chatting with the locals, and soaking up the ambience – you can experience it all at Peregian Markets.
Dine out in Peregian Square
Here you'll get your coffee fix, traditional French meals, modern cuisine for dinner and cocktails to wind down the evening. Sit among the fairy lights in the ambient restaurant of Periwinkle. This French-Mediterranean restaurant serves up the freshest and locally sourced provisions. The notable favourites include the steak and hand cut frites, or just about any of their seafood plates!
Sip on an Aperol spritz, share a mouth-watering woodfired pizza and sit along the sprawling deck of the Peregian Beach Hotel. It's casual atmosphere and bright Hamptons interior will keep you coming back for more. Weekends will find locals and visitors alike enjoying drinks, relishing in delicious tapas, and listening to local live music.
Enjoy breakfast out
Take it easy in Peregian Beach village, where you'll find a wonderful array of cafés and breakfast spots. Start your morning out right at the Baked Poetry Café. Sit under the shaded trees and enjoy some classic German style brunches. This café has been a part of the Peregian community for 17-years and there's a reason for that – the good food is only the start.
The new café on the block is Outer Square, quickly becoming a popular brunch hub. The beautiful interior sprawls out into alfresco dining, located next to the IGA, you'll instantly love the atmosphere. Whether you just want a fresh croissant or an impressive breakfast that will fill you up all day – this new coffee shop is a must.
Pamper yourself
Located on the second floor in the heart of Peregian, the Heart of Beauty provides treatments tailored specifically for each individual's needs. Choose ultimate relaxation with signature facial treatments, therapeutic body massages and personalized beauty services. The friendly faces and boutique interior will make you instantly feel welcomed.
If you would prefer to treat your hair to some sustainable love, the bright and beautiful salon, Velvet Mane delivers the ultimate high-end service. Sit back have an authentic chat, and walk out not only looking, but feeling fabulous. If you're in Peregian, it's worth stopping in to get pampered by the cheerful and passionate team.
Stay in our Peregian Beach accommodation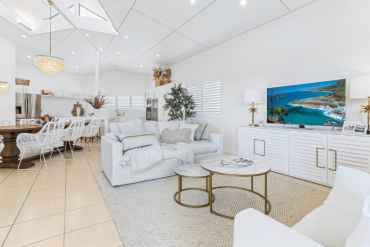 With these 9 things to do in Peregian Beach, it's worth making a week of it. We have a deluxe range of holiday homes across the northern Sunshine Coast or stay only 100 metres to Peregian Village within the quiet leafy street of 30 Kingfisher Drive.
This luxe coastal village home sleeps up to 10 guests and boasts 5-bedrooms, 4-bathrooms with two self-contained zones. Make yourself comfortable in this home away from home where you can make use of the picnic hamper, kid carts, pram, beach chairs and hats. You'll have everything you need for an idyllic beachside getaway.