Are you looking for Noosa accommodation, but can't decide where to stay? From luxury waterfront apartments to pet friendly accommodation. We have created a guide to Noosa accommodation to inspire you for your Spring 2022 Noosa getaway.
Peregian Beach Accommodation
If you love a beachside village packed with cafes, restaurants, and boutique shopping, then you'll love a holiday in Peregian Beach. Our Peregian Beach accommodation is ideally positioned within walking distanced of the beloved local village or head 10 minutes down the road to the renowned Hastings Street, Noosa.
4 guests | 2 bedrooms | 2 bathrooms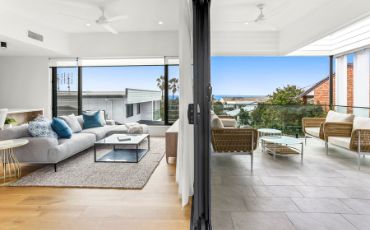 Drawing on the sophistication of a monochrome palette, the apartment's modern design is accented by white, black, and grey hues, light timber flooring, and chic furnishings – instantly creating a warm and welcoming environment. Cosy up and get comfortable in this luxury apartment this Spring. Here you can wake up and enjoy a coffee in the sun on your patio or walk down to the pristine sands of Peregian Beach and enjoy it on the beach.
Book from 1 September – 30 November
10 guests | 5 bedrooms | 4 bathrooms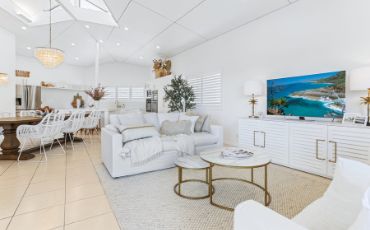 Stay in the heart of Peregian Beach, where boutique shopping, cafes and pristine surf are only steps away from your large beachside home. Ideal for two families or a large extended family, this stunning property is ideal in the Springtime, boasting all your holiday needs, from picnic baskets to beach cabanas.
Book from 1 September – 18 November
Noosa Waters Accommodation
The stunning Noosa River comprises of fine dining and local cafes and is just a scenic 20-minute walk away from the exclusive canal estates of Noosa Waters. Explore our Noosa Waters Accommodation this spring.
6 guests | 3 bedrooms | 3 bathrooms
Stay in an absolute waterfront holiday home. This Noosa Waters holiday home is ideal for a perfect family getaway. Stylish and elegant, this 2-level home boasts a centralised pool and sleeps up to 6 guests.
1 September till the 27th of October
Book from 4 November – 30 November
10 guests |5 bedrooms | 3 bathrooms
Where better to spend your spring getaway in Noosa than on a waterfront residence. This Noosa accommodation has been perfectly designed to foster indoor-outdoor living. It offers several spaces for everyone to unwind and enjoy the best of Noosa's climate and lifestyle. With various outdoor entertaining areas and a large pool, it is perfect for friend and family alike to come together.
Book from 1 November – 30 November
Sunshine Beach Accommodation
Are you seeking Sunshine Beach Accommodation this Spring? We can understand why – this idyllic beach-side community is home to one of Australia's most pristine surf beaches and array of cafes, restaurants, and boutiques.
10 guests |5 bedrooms | 4.5 bathrooms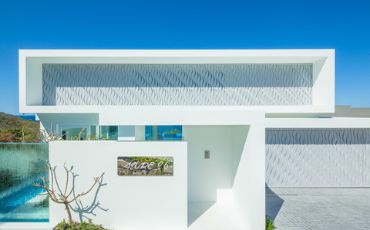 If you prefer the finer things in life, than Azure in Sunshine Beach is your ideal accommodation this Spring.  This ultimate beachside sanctuary takes holiday life by the ocean to a whole new level of unrivalled luxury.
Book from 1 September – 9 November
10 guests |5 bedrooms | 4 bathrooms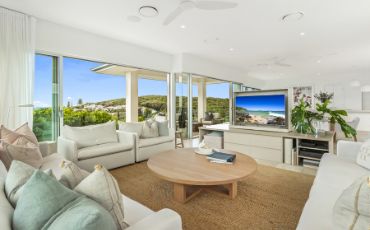 Positioned atop the exclusive northern end of Sunshine Beach, you are treated to the expansive views of the ocean & national park. Awash with sunshine, filtered with fresh sea air and naturally stylish, you'll love this home away from home this Spring.
Book from 1 September – 31 October
4 guests |2 bedrooms | 1.5 bathrooms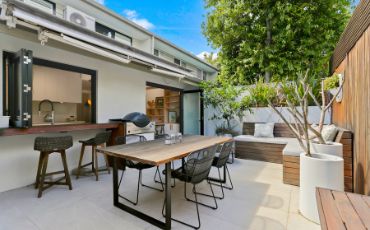 Are you seeking a spring getaway in Noosa for you and your partner? Then you'll love this beautifully renovated, two-bedroom townhouse. Here you can make the most of the sub-tropical weather dining in the private courtyard, chilling on the balcony and cooling off in the shared pool.
Book from 15 September – 30November
4 guests |2 bedrooms | 1 bathrooms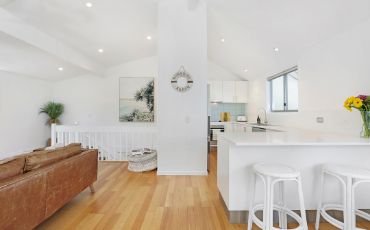 Ideal for a small family and couples, 3/12 Park Crescent offers gorgeous ocean views, alfresco dining, and a shared pool. Did we mention that it is located only a short 100-meter stroll from the beach and a 7-minute walk from the village of Sunshine Beach? This apartment is the perfect coastal home for your next holiday this Spring.
Book from 1 November – 30November
6 guests |3 bedrooms | 3.5 bathrooms
Stay a stone's throw from the Sunshine Beach village and the patrolled beach. 1/18 Douglas Street is a spacious and luxury holiday home offering spectacular views out to sea.
Book from 2 October – 18 November
Hastings Street Accommodation
Take in boutique shopping, prestige art galleries, cafes, superb restaurants – our Hastings Street accommodation is all close to Noosa Main Beach and the Coastal Boardwalk to Noosa National Park.
2 guests |1 bedrooms | 1 bathrooms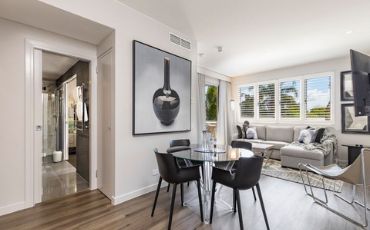 Stay on Hastings Street this spring! This modern apartment is very peaceful while still offering quick and easy access to bustling Hastings St and popular Main Beach. Ideal for a couple's getaway, this is a beautifully appointed and well-equipped one bedroom top-floor apartment.
Book from 10 September – 6 October
Book from 1 November – 10 November
6 guests |3 bedrooms | 3 bathrooms
From this luxe apartment you can step out onto the terrace which directly overlooks the beach and shared pool. Fully retractable doors can be pushed back to take full advantage of the ocean vista. Take a front row seat and watch the world go by from the comfort of the daybeds. Or stroll out directly onto the beach for a dip in the ocean.
Book from 7 September – 16 September
Book from 9 October – 25 October
6 guests |3 bedrooms | 3 bathrooms
Experience unrivalled views of both Hastings Street and Noosa Main Beach at 10/37 Hastings Street. This apartment is in one of the most premier positions in Noosa and offers an idyllic spot to enjoy a drink and immerse yourself in the action without even having to leave your apartment.
Book from 4 October – 27 October
Book from 2 November – 18 November
Sunrise Beach Accommodation
Sunrise Beach is ideally positioned south of Sunshine Beach and just a 5-minute drive from Hastings Street, Noosa Heads. Its pristine beach has a patrolled section all year round and is located within close proximity to our Sunrise Beach Accommodation.
8 guests |4 bedrooms | 3 bathrooms
Experience the ultimate beachfront escape where the spectacular surrounds can be seen from almost every room from this Sunrise Beach Accommodation. Ideal for a family holiday, you can enjoy an easy walk to Sunshine Beach restaurants, cafés and surf club or be in Hastings Street in minutes in the car.
Book from 1 September – 16 October
Book from 24 September – 30 October
Book from 7 November – 18 November
8 guests |4 bedrooms | 2 bathrooms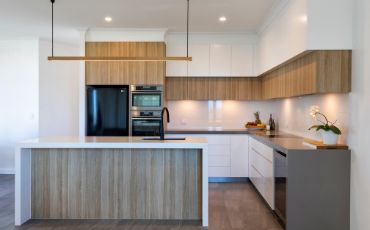 Who wants to stay in a luxe penthouse overlooking the pristine beach of Sunrise Beach? We know we do! At 9/9 Selene Street you can enjoy the golden sunrises, whale sightings and the beautiful Noosa evenings from the large wraparound balcony this Spring.
Book from 5 October – 27 of October
Book from 31 October – 18of November
8 guests |4 bedrooms | 4 bathrooms
Treat yourself and the family to an is an absolute ocean-front holiday this spring. 62 Tingira offers 180-degree of exclusive ocean views, in which you can enjoy on your private balcony, basking in the Spring sun. Or rather stroll down your very own private path down to the beach.
Book from 17 September – 25October
Castaways Beach Accommodation
Come and experience Castaways Beach Accommodation for an idyllic beachside holiday, away from all the hustle and worries of the world. Located only a short 7 kilometres south of Noosa Heads and close to the community villages of Peregian Beach and Sunshine Beach.
8 guests |4 bedrooms | 4.5 bathrooms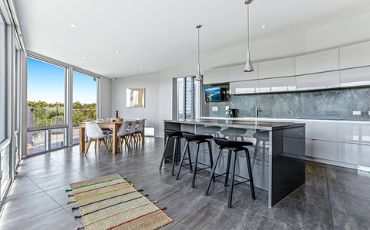 Nestled among the coastal trees of the Noosa National Park and tucked discreetly just above dune level, 33/512 David Low Way captures the morning sun along with ocean and National Park views. Sleeping up to 8, you have nothing but the National Park between you and the beach.
Book from 7 September – 26 October
Book from 1 November – 18 November 
With so many quaint hinterland towns and pristine beaches, there's an abundance of Noosa holiday rentals to make for the perfect getaway.
So you can find your dream Noosa accommodation that will leave an impression on you, long after you leave…