We have been so pleased to welcome back guests and help them reconnect with what is important to them, in Noosa.
We appreciate how important it is to get away, with family and friends, together in a place you love. Our mission is to provide exceptional homes and unique experiences, that only Noosa can offer.
Stay with us and reconnect with family, partners, friends, and yourself, in beautiful Noosa, where rest, relaxation and recovery come naturally.
We have developed some new videos and top tips, to inspire your next Noosa luxury holiday.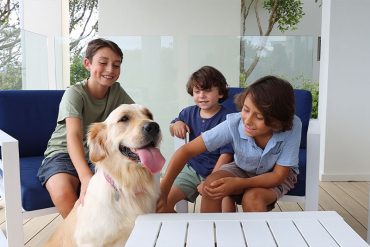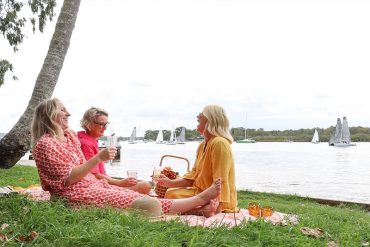 Connect with family
Whether you have young kids, older kids or grandkids, Noosa is the perfect family holiday destination to reconnect with your family.
Beautiful beaches, with many patrolled for safety, with year-round balmy weather, make for fun time together in the waves. Can surf? Hit the waves together with a choice of no less than 12 superb beaches with the Noosa World Surfing Reserve. Never tried? Learn to surf together, as a family at one of the local surf schools.
Explore the unexpected and discover new experiences together. Noosa Hinterland country drives and markets, Fraser Island (in a convenient day trip) and the Noosa River Everglades are on your doorstep.
For kids of all ages the Noosa River Ferry hop-on-hop off option is a great way to see Noosa from the River. For little ones, don't miss the Pirate Park Playground at the Noosa Yacht and Rowing Club stop. The Noosa Marina Markets every Sunday, Noosa Foreshore and Noosa Sound restaurants and watersport hire on Gympie Terrace are all accessible via the ferry.
Connect with your partner
As a romantic getaway, very few places surpass Noosa for the opportunity to connect with your partner.
For a romantic dinner or lunch, Noosa's fine cuisine is famous. Creative local chefs are inspired and blessed by the freshest local and seasonal produce. Try up-market favourites Locale and Noosa Beach House on Hastings Street, Sum Yung Guys and 250 Grammi in Noosaville, Ricky's at Noosa Sound and Herbert's in Noosa Junction.
Retail therapy in Noosa Junction, Noosaville and Hastings Street, can be great fun and guys, not just for the ladies! There are boutique outlets here that will get you fitted out and looking good. Find the hand-crafted and un-expected at galleries, giftware shops and markets.
Get your yin and yang on with plenty of options to sweat before you relax and unwind. Work up a bit of steam on numerous forest trails in Noosa National Park. Hire surf skis or paddleboards and explore Noosa River Waterways or the coastal headland. After lunch, get pampered with your partner with a couple's massage package at one of Noosa's day spas. Catch a mind-blowing sunset together over the waterways from Noosa Hill, with a cheeky bottle of bubbles to get the evening started.
Connect with friends
Go on, its time! And your friends will love you for it. Organise an escape with friends you have not seen in a while in beautiful Noosa. Laugh, re-live, discover and re-connect with new experiences together.
Did you know you don't need a boat license to hire a River Pontoon? Pelican Hire at Noosaville has pontoons that are ideal for groups of friends. There are even options with BBQs to pack a lunch out on the river.
Connect with your inner artists at one of Noosa's Paint and Sip Classes. Hire bikes from Bike On, in Noosaville and explore endless kms of Noosa bike paths. For some collective adrenaline, and spectacular views, take a Noosa Skydive with Sky Dive Australia. Launch over the hinterland mountains from either 10,000 or 15,000 feet and land on the beach.
Relax and reconnect with your shoes off, some takeaways and a bottle of bubbles along the grassy parklands on the Noosa River Foreshore at Noosaville.
Connect with yourself
Reconnecting with ourselves for an inner sense of peace and purpose, is what we all increasingly need from our precious holiday time.
In Japan they call it Forest Bathing and it is a practice prescribed by health professionals. A relaxing, purposeful, and meditative walk-through forests to calm the mind and reconnect with the soul. In Noosa there are endless kms of quiet forest tracks to help you soak up the calming effects of nature, de-stress and reconnect.
Get some Vitamin Sea action. Did you know there are significant health benefits of being in seawater? It's great for your skin, respiratory system, immune system, stress and anxiety and inflammation reduction, supports healthy organs, and more. With Noosa's pristine beaches there is no better place to soak up healing mineral salts and nutrients in sea water.
It's time for you! De-stressing is what a holiday is all about and Noosa is full of options. Perhaps the most important opportunity for rejuvenation is some down time to look after yourself. A half hour reading a book catching some vitamin D on you skin is like magic for the soul. So too, is a barefoot walk along the beach taking the time to breath in the relaxing energy of the beach. Whether it be surfing, swimming, running, walking, or cycling, Noosa at every turn inspires time for yourself, to relax, unwind, de-compress and reconnect.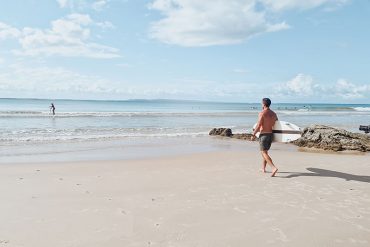 Connect in Noosa
Noosa Luxury Holidays offers the finest selection of Noosa luxury accommodation. Our goal is to provide unique properties suited to every need, with access to exceptional experiences that help you to connect with what matters, here in Noosa.